EA Value
Enterprise Architecture (EA) Value app provides information and tools on architecture concepts.
---
It shows how Enterprise Architecture provides value to business and IT throughout the IT Value Chain. It also consists lists of tools on specific architecture areas and games about IT myths.
This app is for anyone interested to learn about enterprise architecture and for IT community to utilise the tools to assist their work.
Home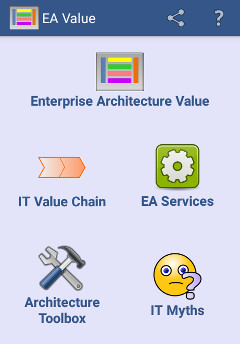 The home screen allows easy access to the functions of the EA Value app:
Enterprise Architecture Value
IT Value Chain
EA Services
Architecture Toolbox
IT Myths
Enterprise Architecture Value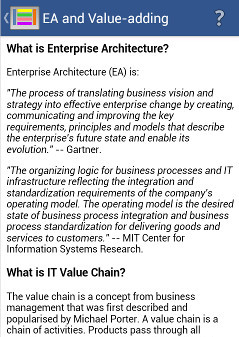 This section introduces Enterprise Architecture (EA) and IT Value Chain. It explains how EA add values to business and IT throughout the IT Value Chain.
IT Value Chain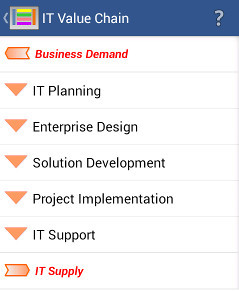 IT Value Chain describes the activities throughout the chain. In each activity, EA's roles, values and services are explained. The 3 main groups of activities in the IT value chain are:
Direct - plan ICT to support business strategies. Activity group includes IT Planning.
Develop - design enterprise operation and develop solution to satisfy business requirements. Activity groups include Enterprise Design, Solution Development.
Deliver - implement project to deliver solution to end users. It also cover IT support. Activity groups include Project Implementation and IT Support.
EA Services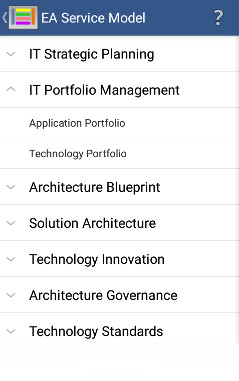 EA Service Model describes the Enterprise Architecture services, input, output, producers and consumers.
There are 7 main groups of services in the EA Service Model.
IT Strategic Planning - assists the development of the strategic ICT plan and ICT plans across the business units, used to plan and prioritise IT investments.
Portfolio Management - manages IT asset life cycle and align IT spending with business needs.
Architecture Blueprint - provides EA models and frameworks to be used as reference models for building business solutions.
Solution architecture - enables the development of integrated application systems that satisfy business information needs.
Technology Innovation - provides an architectural consultancy service to assist project teams and management in understanding technology and business options
Architecture Governance - provides a structured approach to assist design teams in identifying and making design trade-offs in line with enterprise-wide requirements, and ensuring that solutions conform to published standards and the Enterprise Architecture.
Technology Standards - establishes and maintains technical standards that sustain the delivery, implementation and support of technology projects across the organisation.
IT Toolbox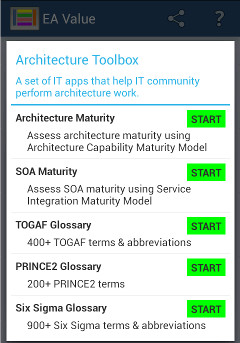 Architecture Toolbox is a list of IT apps (separately installable) that help IT community to perform the architecture work.
IT Myths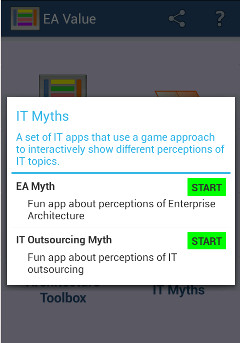 IT Myths is a list of IT apps (separately installable) that use a game approach to interactively show the different perceptions of IT topics.